As a follow-up to my previous photo shoot at Piazza Escondida, I recently returned to photograph some recently completed lofts. Two lofts are complete and ready to be toured by interested buyers.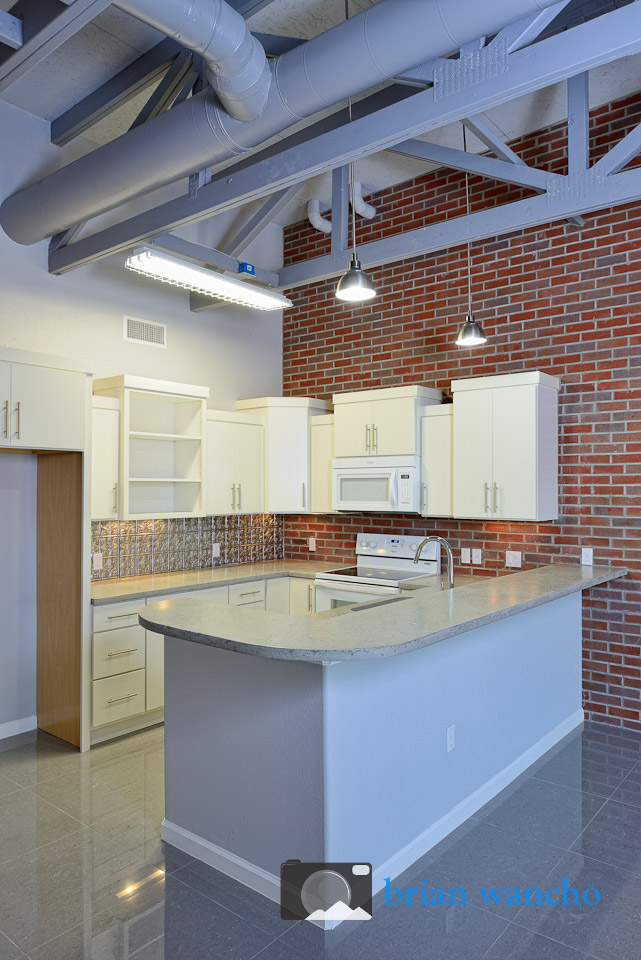 I liked the contrast of the cool gray colors with the stamped metal and brick walls in this kitchen. That's probably why I ended up with a lot of photos of this part of the loft.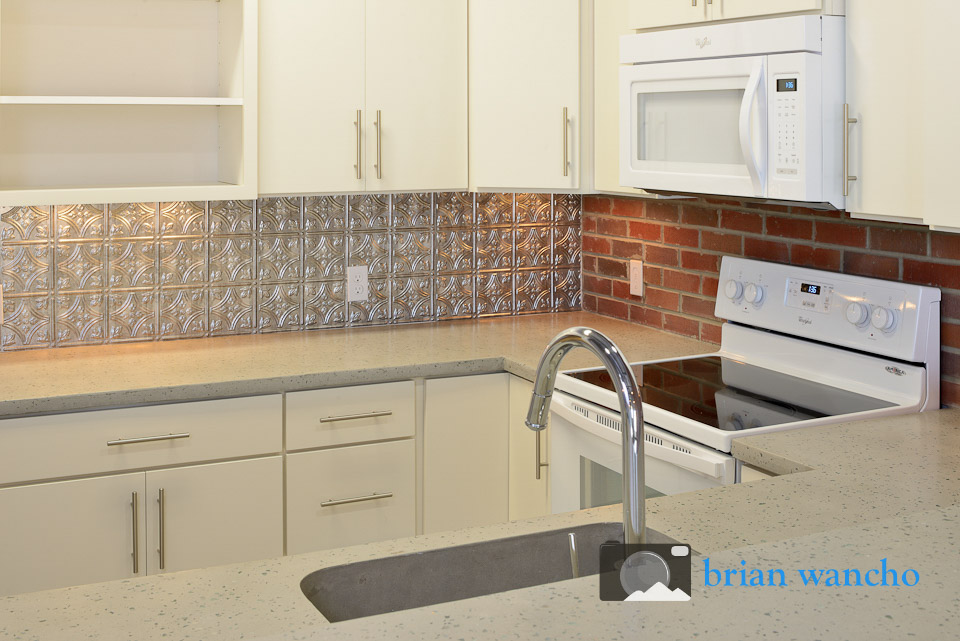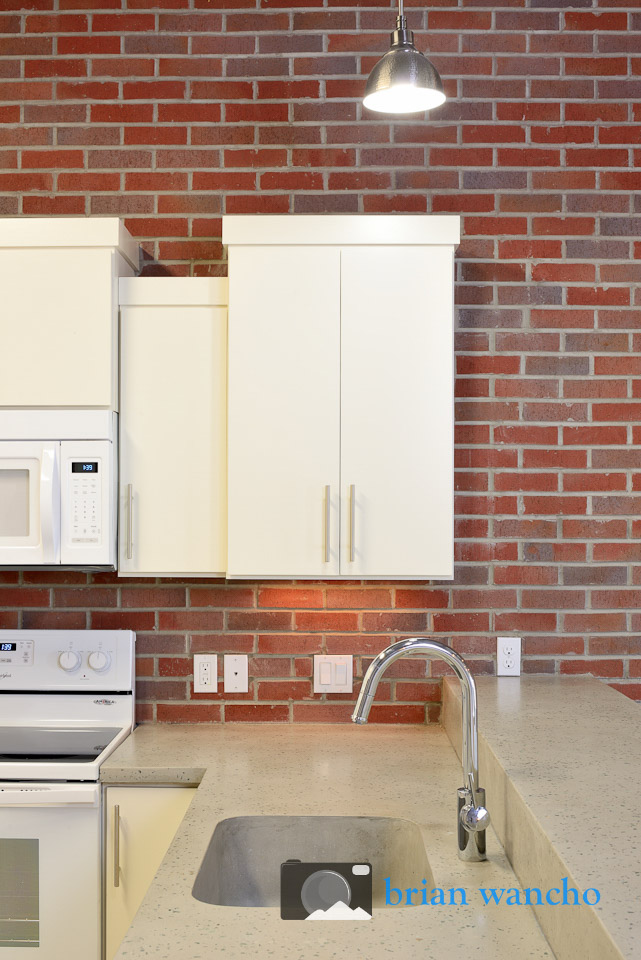 Below is a behind the scenes look at the set-up that captured the photo above.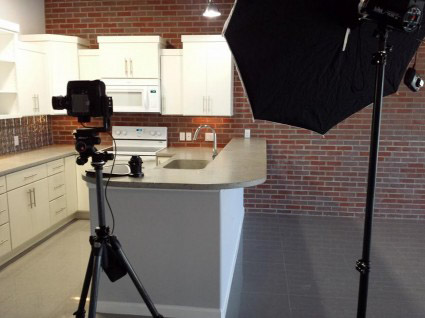 The shot might appear to be fairly simple, but several factors made it deceptively complex.
First, there are several light sources. Windows far to the right of the scene are letting sunlight enter in to the scene (some of which is bouncing off the floor). The main lights in the space (visible in the first photo in this post) are fluorescent while the pendant lights appear to be halogen. An additional color of light is introduced by the under-cabinet lights. A gray card (seen on the countertop in the photo above) was used to calibrate the proper color temperature during post processing.
Second, the single point composition must be accurately square because the bricks and cabinets will look strange if the alignment is just a bit off. Additionally, the photo needs to be shot from a height that does not show the bottom sides of the cabinets yet it includes the desired amount of sink and countertop. My Nikkor 45mm PC-E lens allowed me to adjust the perspective while maintaining the proper camera height.
Third, both the bricks and the faucet need to be in focus. At this focal length and under these lighting conditions, a smaller than usual aperture was required to keep everything in focus.
Finally, there is a significant amount of contrast between the darkest areas of the scene and the pendant light that is at the top. Additional lighting was added to bring the scene to a brighter level so that the pendant light didn't appear over exposed while the bricks and cabinets were too dark.
OK – enough of that. Back to the photos.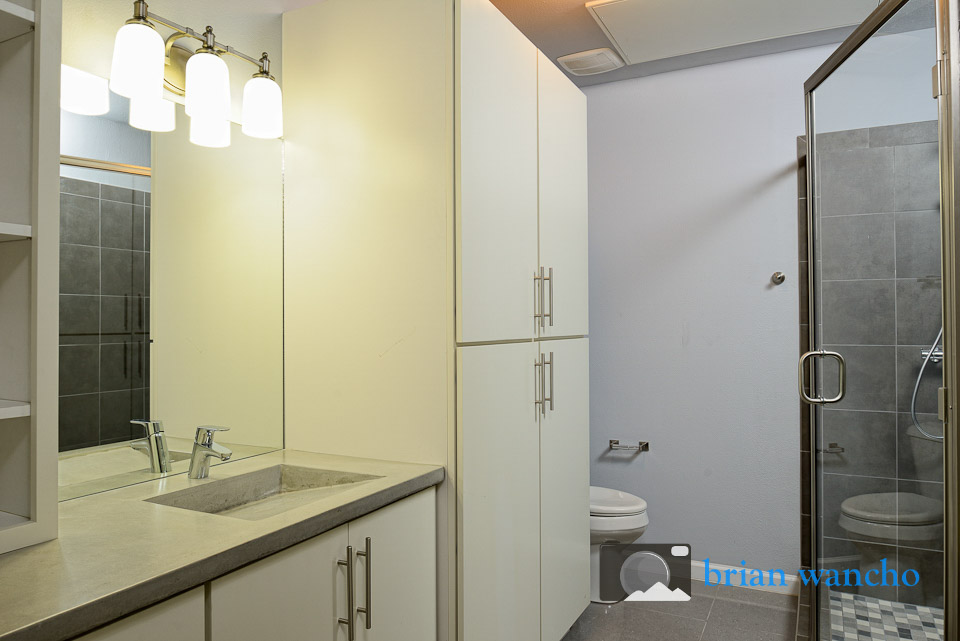 This bathroom required some strategically placed off-camera flashes to achieve a well balanced exposure throughout.
The second loft is very different from the first. It still has the same urban feel but in a more rural way.